Joseph Sesay, 22, and Mabinti Turay, 27, are recent patients who came to us with jaw infections originating from decaying teeth. They are just two of the 37 patients whom we had Dr. Davis begin to treat during the six-months I was in Sierra Leone. Many have completed treatment and returned home to their towns or villages.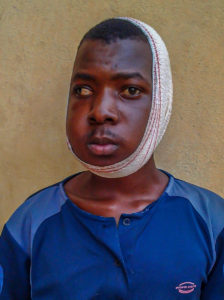 When Joseph Sesay, 22, came to us on March 28, 2019, an aggressive infection of his right jaw was spreading quickly and was likely to kill him within a few days. We had Joseph started on antibiotics at the nearby Holy Spirit Catholic Hospital and got him to the oral surgeon in Freetown by April 2. The oral surgeon had Joseph admitted to the Connaught Government Hospital in Freetown where he received intravenous antibiotics. His condition improved to the point where he could endure surgical treatment to remove decayed teeth and to start removing infected bone and gum tissue.
A few days after his surgery, Joseph Sesay's jaw was bandaged, his infection was under control, and he was out of the danger of dying from an aggressive infection or sepsis.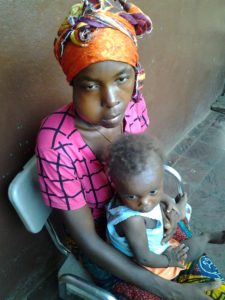 Mabinti Turay, 27, came to us on April 10, 2019, after having suffered for four years with an abscessed right jaw caused by a decaying tooth. She had pain and no open sinus on her face; instead the pus from her infection entered directly into her mouth. She arrived with her baby girl and her mother. The three ladies joined the three men and four women already staying at our rented lodge, while being treated by Dr. Don Davis, the oral surgeon in Freetown.
Mabinti settled into the routine of X-rays, medications, and oral surgeries. The other patients were able to help to care for her baby while she was in recovery.