Almost every day, people come to my door in the village or go to find me at the hospital where they request help for various problems.  Most are medically treated at the Holy Spirit Hospital at Africa Surgery's expense for conditions like typhoid and malaria.  Some, including two small boys, are being scheduled for surgical treatment of hernias; two men have undergone emergency surgery for strangulating hernias.  Others are having surgery by visiting teams of reconstructive plastic surgeons for burns or certain tumors and growths, and at least three babies are being treated for cleft lips and pallets.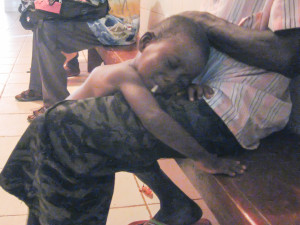 Others, whom we are referring to specialists in the capital city of Freetown for treatment at our expense, include a teenage girl needing a tonsillectomy, and another with what appears to be a fast-growing-bony tumor on her lower jaw that we hope the oral surgeon can remove.  One man, age about 50, who was diagnosed with cancer and admitted for pain control, died about three weeks later.
So far, our helper, Foday, has taken 39 patients to the Baptist Eye Hospital, five having their sight restored with cataract surgery, some being treated for various infections, but most receiving follow-up medications for cataract or pterygium surgeries previously made available by Africa Surgery.
Tom Johnson, Jr.
Dec. 5, 2013